Rooms TariffMenusGardenFarmLatest NewsLocal Attractions Availability Contact us DirectionsSpecial Offers Weddings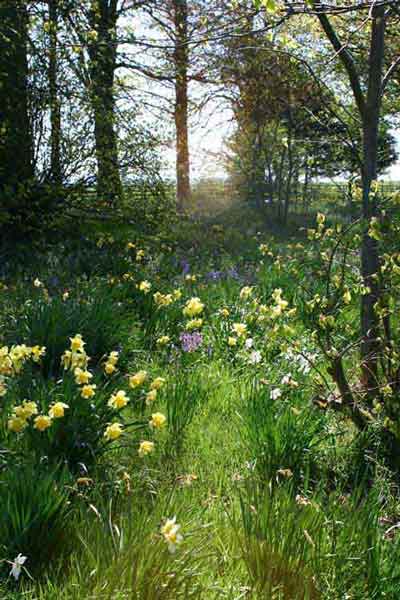 The Woodland Garden in Spring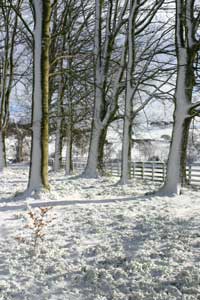 ...and in Winter
Cormiston Farm is licensed to sell wines, beers and spirits with a meal to guests staying at the farmhouse.
Wines range from a delicious light Domaine de Lauroux, Blanc, from the Côtes de Gascogne to a deep cherry red Spanish Reserva, Viña Valduero.
Most of our wines can be served by the glass or by the bottle.
Champagne for those special occasions includes an excellent and weighty Louis Roderer, Brut Premier.
Whisky - Single Malt from all six whisky distilling regions of Scotland. An enormous variety of styles and flavours.
Local Beer from the Broughton brewery, just down the road, includes their famous Greenmantle Ale, dark and bitter/sweet - as well as seasonal ales and lagers from their collection.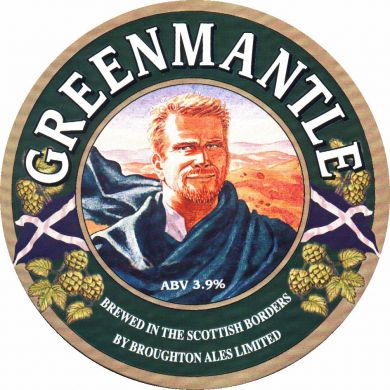 Greenmantle Ale created with an interesting blend of malts and hops.
The Ghillie - Copper coloured ale bursting with hop flavours and aromas from the specially selected English and German hops used in the brewing process.
Black Douglas - A dark ruby coloured ale with a rich full-bodied malt flavour and overtones of roast fruit.
Scottish Oatmeal Stout - This rich stout is bursting with the flavours of roasted barley and black malt. The excellent hop bitterness is offset by the silky mouth feel of oats.
Old Jock Ale - The soldiers of the Highland and Lowland regiments of Scotland are known as "The Jocks". A classic Scottish Ale with its strong, warming flavours of malt and hops. A drink to be savoured at room temperature.
Border Gold Organic Ale - Organic malt from the UK and organically grown New Zealand hops are blended with pure water from the Scottish Border hills. A light golden coloured beer full of flavour and aroma, refreshing, clean tasting with an excellent hop aroma and aftertaste.
White Wines (Examples)
Colombard, Vin de Pays des Côtes de Gascogne
~~~~~~~~~~~
Sauvignon Blanc, Ceravolo Estate, Adelaide Plains, Australia
~~~~~~~~~~
Riesling, Grove Mill, Marlborough, New Zealand
~~~~~~~~~~~~
Chardonnay, Rodney Strong, Sonoma County, California
~~~~~~~~~~~~~
Pouilly Fumé, Cuvée Prestige, Domaine Moreux, Loire
Red Wines (Examples)
Cabernet Sauvignon, Santa Ema, Chile
~~~~~~~~~~
Shiraz, Ceravolo Estate, Adelaide Plains, Australia
~~~~~~~~~~~~
Les Ormes de Lagrange, Bordeaux Superieur
~~~~~~~~~~~~
Pinot Noir, Rodney Strong, Russian River Valley, California
~~~~~~~~~~~~
Château Puygueraud, Côtes de Francs, Bordeaux
~~~~~~~~~~~~~
Viña Valduera, Reserva, Ribera del Duero, Spain
Selection of Single Malt Whiskies by Region (Selection may vary)
Highlands
Dalwhinnie The highest distillery in Scotland.
Glenmorangie Best selling single malt in the UK
Speyside
Balvenie A creamy malt. The distillery grows some of its own barley.
Glenfiddich The first single malt to be widely marketed outside Scotland.
Islands
Highland Park From Orkney – the most northern whisky distillery in Scotland.
Islay
Bowmore Still uses traditional production methods.
Bunnahabhain Sweeter and less peaty than other Islay Malts.
Laphroaig – Very peaty; you'll love it or hate it.
Lowlands
Glenkinchie Distilled just 15 miles from Edinburgh in the Lammermuir Hills.
Campbeltown
Springbank – From the Kintyre Peninsula, bottled at source.