WeddingsMenusWines & WhiskyGardenFarmLatest NewsLocal AttractionsAvailability Contact us DirectionsSpecial Offers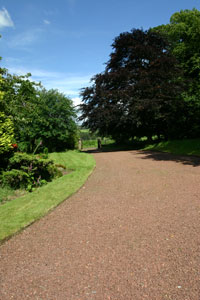 Plenty of parking space at the front of the house. (There is additional room in the farmyard at the back for trailers, horse boxes or large vehicles)
Cancellation Fees: During the COVID19 Crisis you may cancel up to 7 days before the booking with no charge. In certain circumstances you will not be charged even for a cancellation within 24 hours. This is to encourage you to cancel if you have symptoms, test positive for COVID19 or have to self-isolate. We may need to cancel your stay due to government restrictions or local lock downs as they occur. If we have to cancel your stay, you will not be charged.
Tariff for Tinto Bedroom and Culter Fell Bedroom
£96 per room per night.
see Special Offers for longer stays, Weekend Breaks and Midweek Getaways
A full Scottish breakfast is included.
Early Check in Check in from 1200 instead of 1600 if you need to change for a Wedding or event. £10.00 is charged for the additional work to clean the room in the morning.
Culter Fell as a Family room (up to two children under 16 and 1 infant) a supplement of £15.00 per child (2-15 years old). Infants under 2 stay free of charge.
Payment for the first nights' stay is required at the time of booking. See our policy on cancellation fees in the left column.
Single Occupancy Our prices are per room for single or double occupancy.
VAT is included in prices at the appropriate rate, where applicable. The rate is currently 5% - changing to 12.5% from October 2021. A full VAT invoice is provided when booked direct.
Children We can accomodate families if required, with bunk beds for up to 2 children under 16 in a side room next to Culter Fell Bedroom. A cot is available if required. A third camp bed can be added to the side room on request.
Departure: On the day of departure it is helpful if you vacate your room by 11am as then we can prepare for the next guests. If you want to leave luggage until later in the day, we can store it for you for collection.
Late Check out If you wish to keep your room until 1400, then Late check out is available on request, if possible on that day, for a fee of £15.00. Rooms must be vacated by 1400 or a full further night is chargeable.
Book early We recommend that you book early to avoid disappointment, especially during the Summer months, at weekends and for Christmas and New Year.
*Christmas and New Year The tariff for all double rooms from December 20th - January 2nd is £110 per room per night - double or single occupancy.
"There is scarcely anything in the world that some man cannot make a little worse, and sell a little more cheaply. The person who buys on price alone is this man's lawful prey." - John Ruskin